May 20: Editorial: Our Revolution
(10:53am)
Now that things have quiet down, that one day has gone since the conference, that we have an overvie...
May 19: IGN Interviews Shigeru Miyamoto
(6:38pm)
IGN was lucky enough to interview Shigeru Miyamoto, however they might have been wasting their time ...
May 19: The Truth Behind Harvest Moon: Another Wonderful Life
(12:16am)
The truth is plain and simple, what has been called for a while on Nintendo plannings Harvest Moon: ...
May 18: More Microphone Games !
(11:59pm)
Mario Party 6 has been for way too long the only game to use the GameCube's microphone but now thing...
May 18: The Revolution Logo
(11:43pm)
If the logo hasn't been officialy unveiled, we still had a chance to see it on the console itself. T...
May 18: I see... Odama ! (10 screenshots)
(11:33pm)
This one, Odama, is still after a year the game I'm the most interested in among all the unreleased ...
May 18: Please Welcome Our Geists: 10 New Screenshots
(11:25pm)
The year when Geist was first introduced (was it two years ago already ?), I was absolutely unimpres...
May 18: Chibi-Robo: A Small Guy in Big Screenshots
(11:16pm)
Chibi-Robo has been in development for what seems ages. First presented as a creation of Skip (maker...
May 18: Battalion Wars vs The Screenshots
(11:06pm)
The Kuju-developed GameCube version of the Advance Wars best-sellers is doing well. Practically one ...
May 18: Mario Party 7: 8 Players and 10 Screenshots
(11:02pm)
Unstoppable, unbreakable, untamable, nothing will prevent Hudson and Nintendo from making their annu...
May 18: Say Cheese: Kirby is Back and We Got Some Screenshots
(10:18pm)
The new Kirby was barely featured during Nintendo's E3 conference and press event, yet new screensho...
May 18: Miracle ! Mario Baseball in the Stadium with Screenshots
(10:11pm)
While still waiting for the official confirmation that Mario Baseball is called Super Mario Stadium:...
May 18: Dance Dance Revolution Mario Mix Screenshot Screenshot...
(9:51pm)
There's Mario and Revolution in the title but unfortunately it's not Nintendo unveiling a new Mario ...
May 18: Screenshots of Pokemon XD: Gale of Darkness
(9:29pm)
And yet another Pokemon on GameCube. But this one swears to be different: 100% RPG, like we all want...
May 18: Nintendo Pennant Chase Baseball
(9:16pm)
Two baseball games from Nintendo just for this year, this is a bit surprising, if not disappointing;...
May 18: Introducing Super Mario Strikers
(8:46pm)
A Mario soccer game had been rumoured weeks before the E3, but the rumour seemed so thin and unlikel...
May 18: Pictures Update... A Bit Later !
(2:29pm)
Being a tad busy, new pictures for several GameCube titles will be only added in a few hours. So che...
May 18: New pictures of the Revolution !
(9:34am)
We have new pictures for Nintendo's next system including pics you might not see anywhere else but o...
May 17: Zelda's official story
(7:47pm)
Here is the official story for the new Zelda, Twilight Princess, straight from Nintendo: "Link, a...
May 17: Nintendo's Conference !
(4:18pm)
Check this topic for updates on the conference. >> The conference is about to start. >> In abo...
May 17: First True Picture of the Revolution !
(10:09am)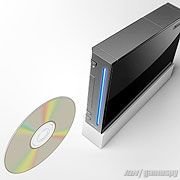 Put your fake...
May 17: New Revolution Details !
(9:55am)
IGN got a few new details about Nintendo's Revolution look and capabilities. According to their sour...
May 17: Fire Emblem US/Euro Title Revealed
(9:49am)
US-based site GameCube Advanced reports Fire Emblem official western title has been disclosed: Souen...
May 17: New Pictures of The Legend of Zelda: Twilight Princess !
(9:30am)
Beautiful high-resolution pictures have been released for the new Legend of Zelda. The atmosphere ap...
May 17: Sonic Gems Collection
(9:30am)
Sega officially confirmed the rumour of a new Sega Mega Collection, although it is unsure at this ti...
May 2: Samurai Nintendo's E3 2005 Section Opens
(11:02pm)
The next Electronic Entertainment Expo kicks off in two weeks. However, if you're familiar with the ...